News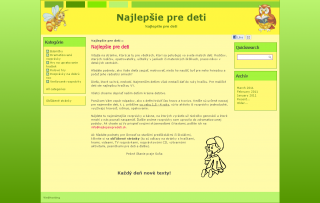 Together with my wife I have created a page for all people in the world of small children. Parents, grandparents, nannies, teachers in day nurseries or kindergartens, child workers in the centers.
If you are looking for suggestions, as your child is to attract, motivate, teach him something, be a star for him and hear his gleeful laugh, visit our webpage
najlepsiepredeti.sk
, where you can find
dramatized fairy tales
,
game cleaning toys
,
role play games
or
bedtime stories
.
For fans of Facebook is available also facebook webpage.
I have created a separate blog page. I believe this will help me to publish more and faster.
2006-11-07 - Internet security lecture
My lecture deals with several issues why, before what and how it is neccessary to protect yourself while using internet. Lecture was sponzored by Bratislava community union of father Scherz (BKZ) in cooperation with non-profit organization Platon Group. Presentation (in Slovak language) is freely available. Press report on portal platon.sk and www.abclinuxu.cz.
2006-02-04 - My first Perl poems
I wrote my first Perl poems.
2005-11-13 - Lectures on Lugcon conference
Lectures from the Linux conference Lugcon 13, which took place on the November 12. - 13., 2005 in Bratislava (Slovakia) are available here.
2005-11-12 - I became advisory committee of SKLUG
I became advisory committee of non-profit organization SKLUG - Slovak Linux Users Group. I will help with Open Source activities.
2005-10-17 - I become dmoz.org editor
Because I was not satisfied with section World: Slovensky: Počítače: Software in database dmoz.org, I decide become a editor of dmoz.org. Success!
2005-10-17 - My website added into GeoURL project database
Location of the server serving this page is Bratislava, Slovakia - 48.147, 17.143. Sites near my homepage.
2005-10-16 - Curriculum vitae translated into English
My Curriculum vitae has been translated into English. You can easily switch between Slovak and English version, just click on English or Slovak.
2005-10-09 - Added website statistics
Improvements in website statistics. You can see interesting info on the bottom of the page.
2005-10-07 - Slovak translation of Vim 7.x
New version of popular and very powerfull text editor Vim has been translated into Slovak language. More informations on page Slovak Vim translation.
2005-09-18 - Article for Platon.SK
Today I write my first article for portal Platon.SK. Article is about howto choose a good password. (Slovak language only).
2005-09-17 - Lectures for LugCon conference
I will do a lecture on LugCon conference, but I can't choose the most interesting theme. You can vote for the lectures here. (Slovak language only).
2005-09-13 - Web page added to Zoznam.SK catalog
My homepage has been added to catalog on Zoznam.SK. But indexed word LaTeX affects search results for word LaTeX. I want index my page with documents written in LaTeX. And so my page has more visitors ... ;-)
2005-09-08 - My projects published on freshmeat.net
I have created account on freshmeat.net and make my projects available under the GNU/GPL licence. Little list of projects: fastcgi-gallery, PLaTos and vimconfig.
2005-08-30 - Non-profit organization Platon Group estabilished
Today was successfully finished transformation of unofficial group of developers, administrators and various open-source supporters, known as Platon SDG, to the official non-profit organization Platon Group. In the newly-created organization I have advisory committee function.
2005-07-27 - I have made Christmas in the middle of summer
I have bought new 80 GB harddrive for my laptop and Apacer Share Steno CD211. It is very smart device. I can copy images/photos from my digital camera to big storage media (harddisk from laptop) without computer. Ideal solution for long trips.
2005-07-24 - Added photo gallery
I have created my own photo gallery. Source code is based on Apache::Gallery, but totaly rewritten to FastCGI version.
2005-07-23 - Design changed
Page completely redesigned, because I plan create my own photo gallery. Do you like this new skin? Tell me your suggestions.
2005-06-28 - Statement against software patents
No Software Patents! Here is our statement against software patents (Slovak language only). This statement has been signed by many IT professionals from Slovakia. This statement is linked also from Czech portal http://abclinuxu.cz. Portal is focused on Open Source Software and Linux.
2005-06-11 - My new bike
I bought new bike. Author HORIZON. After 120 km I got my first defect (2005-06-19).
2005-05-28 - SEO Optimization
This site was optimized for search engines. I have added keywords list into header of this page. Very good resorce about this problem is Search Engine Optimization Submission Placement Ranking Positioning.
2005-05-19 - Unofficial Debian mirror
I created unofficial Debian mirror. The reason was library libsasl2 - authenticate crypt hashed passwords in MySQL database. Based on this patch.
2005-05-04 - HTML preview of my documents
Added HTML preview of some PostScript documents. Browse »»
2005-05-03 - PostScript documents compressed
PostScript documents can be downloaded in compressed and uncompressed form. Try It!
2005-04-24 - Valid XHTML 1.0
This page was valid HTML 4.0 Transitional document. This page is valid XHTML 1.0 Transitional document now!
2005-04-21 - Changed encoding
Changed encoding of this page from iso8859-2 to UTF-8.
2005-04-20 - News
Implemented news.
2005-04-14 - Migration from CVS to Subversion
Version Control System of this page has been changed from CVS to Subversion.